Three more patrol coastal ships were offloaded in Bahrain July 3, bringing to 8 the number of PCs forward-deployed with the U.S. Navy's Fifth Fleet.
The little PCs were at first scorned when they entered service in the mid-1990s, rejected by the special operations warfare community they were built for as too big. A new lease on life was found after 9/11, when the Navy needed craft to patrol the U.S. coasts, but even that need mostly fell off. Some were sent to the Gulf in 2003 and 2004 to support Operation Iraqi Freedom – a mission that kept the craft steadily employed – but some of those that remained in the U.S. fell by the wayside, becoming little more than spare parts sources for the vessels that remained running.
But U.S. Central Command's need for small, fast, handy ships able to operate with smaller navies and easily navigate shallow coastal waters has brought the PCs back into demand. At 334 tons full load, with an overall length of 178 feet and a crew of about 30, the craft are well-suited to operations in the region. Armed with two Mk 38 25mm automatic guns, numerous smaller weapons, and now being outfitted with the Griffin surface-to-surface missile, the craft are better armed than when they entered service two decades ago. 
The ships that were virtually out of service have been refitted and modernized, and further improvements are in the works. The three newly-arrived ships – Tempest (PC 2), Squall (PC 7) and Thunderbolt (PC 12) – were all refitted in the U.S. and are more effective than ever, with new, stabilized gun mounts, better sensors, and rebuilt engines and hulls.
In Bahrain, they join the Typhoon (PC 5), Sirocco (PC 6), Chinook (PC 9), Firebolt (PC 10) and Whirlwind (PC 11). Two more craft, Hurricane (PC 3) and Monsoon (PC 4), will transfer to Bahrain in mid-2014.
The remaining ships in the U.S., Zephyr (PC 8), Shamal (PC 13) and Tornado (PC 14), will eventually shift homeport from Little Creek, Va., to Mayport, Fla. (For those of you keeping score, PC 1, the Cyclone, was decommissioned in 2000 after less than seven years of service, and was transferred to the Philippines in 2004 as the General Mariano Alvarez.)
Watch a time-lapse of the PCs being off-loaded from the Eide Transporter: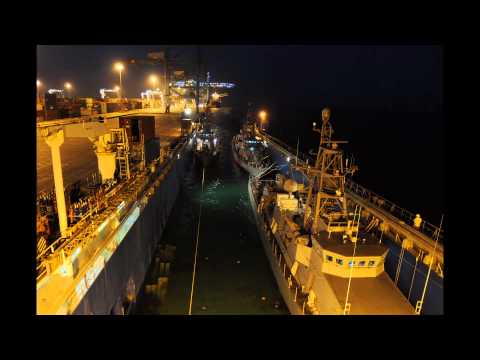 Time lapse  video of the ships bring brought alongside the base at Mina Salman